The 2022 edition will also see the Lenovo Relay Marathon back. The 4-runner teams will be back on the race course with the only goal to support the NPOs and their social projects. The noncompetitive relay, with 4 legs of variable distance between 7 and 13 kilometres, is a colorful and joyful celebration.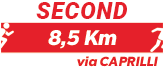 The relay marathon is the beating heart of the Milano Marathon Charity Program, a fundraising project that enables all the participants to run for a nonprofit organization of their choice, contributing to the funding to be earmarked to charitable projects run by over 100 associations participating. In 2019, with more than 1.3 million euros raised, the Milano Marathon Charity Program was the biggest running-related fundraising event in Italy, and the second biggest in Europe after the London Marathon.
Considering the great success in 2021, with over 8,500 runners who participated in teams or individually across Italy, the Run Anywhere format of the Lenovo Relay Marathon has also been confirmed: enthusiasts will be able to form their teams, run and support their favorite Charity, even without being physically present in Milan; the races will be traced with a dedicated App or any GPS device, and will be uploaded on the portal of the event.
The registration will be tied to a donation to one of the NPOs participating in the Charity Program. It is an alternative formula that promotes an increasingly massive participation in the Charity Program.